We get by with a lot of help from our friends
Save the Kiwi couldn't do what we do without the support of our whānau of sponsors and supporters. We are proud to partner with some of Aotearoa's most iconic brands who recognise that saving the kiwi is everyone's responsibility. Their generosity and commitment are vitally important to Save the Kiwi's mission and make a genuine impact on our kiwi mahi.
Crombie Lockwood joined Save the Kiwi's sponsorship whānau in 2019 when they became the naming sponsor of the Crombie Lockwood Kiwi Burrow, located in Wairakei.
"Crombie Lockwood is all about helping New Zealanders protect the things that are important to them, and this partnership allows us to do this with a treasured national asset, on behalf of New Zealanders," says Crombie Lockwood CEO, Carl O'Shea. "It is a real privilege to be able to support the work of Save the Kiwi."
Hunga tautoko
Meet our sponsorship whānau
These awesome organisations have already joined the cause to save the kiwi.
When you join Save the Kiwi's sponsorship whānau, you can take great pride that you're making a tangible difference in the future of the national kiwi population.
But wait! There's more! Becoming a Save the Kiwi sponsor gives you access to numerous benefits.
Impactful brand alignment
Incredible kiwi stories for your business
A regular supply of amazing photos and videos
Amazing kiwi experiences for your customers, staff, and suppliers
Engaging marketing activations
Regular updates on the mahi being done by Save the Kiwi
Visibility on our website and social media
Keen to find out more about what you can expect to enjoy when you become a Save the Kiwi sponsor? Download a PDF to get a taste of the types of benefits our sponsorship whānau enjoys.
Join Save the Kiwi's sponsorship whānau today
To find out more about becoming a sponsor, please fill out the form below and tell us how you might like to get involved.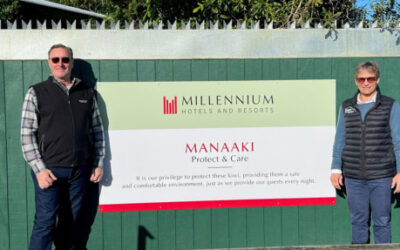 A new kiwi conservation partnership will allow guests of one of New Zealand's largest hotel group,...
read more